WHAT IS THE PETITION OF ONE MILLION?
FULL LEGAL PROTECTION FOR THE UNBORN
If you were around in May 1975, you may recall the Petition of One Million. It was initiated by Alliance for Life Canada, gathered 1,027,425 signatures and gained support from MPs, pro-life groups, churches, organizations and individuals from coast to coast.
The petition was presented in the House of Commons on May 29th, 1975 following a rally on Parliament Hill. Prime Minister Pierre Elliott Trudeau and his government disregarded this plea to protect the lives of Canada's unborn children.
Although more than forty years have passed since the first petition, Canadians are still waiting for the Canadian government to provide protection for children in the womb. We know more about life in the womb than we did decades ago and the empirical evidence proving the harmful effects of abortion on women, families and society is undeniable and yet the debate around the issue of abortion remains stifled.
That's why we're launching a new petition asking PM Justin Trudeau to provide full legal protection for Canadian pre-born children.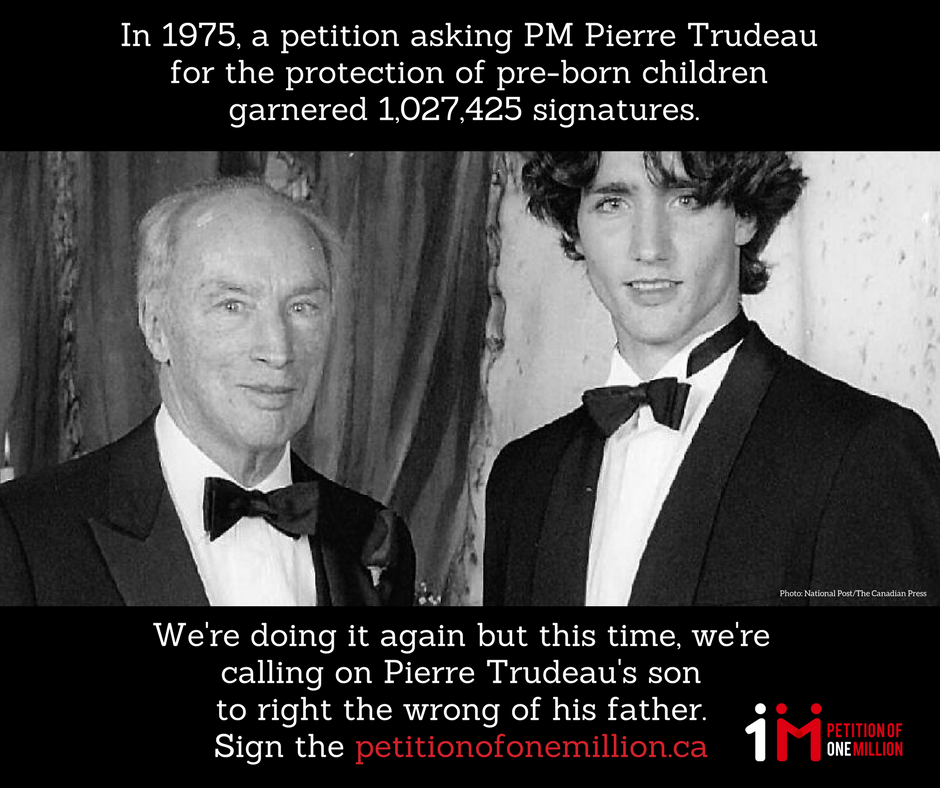 1969 Abortion Law
In 1969, Parliament, under a Liberal Government headed by Pierre Trudeau, with John Turner as Minister of Justice, introduced changes to Canada's Criminal Code. With the passage of Omnibus Bill C-150 on May 14, 1969, the Criminal Code of Canada was amended to allow abortions to be performed in an accredited hospital by a physician if a panel of three doctors (a Therapeutic Abortion Committee) judged that the continuation of the pregnancy "would" or "would be likely" to endanger a woman's life or health.
The word "health" was not defined and subsequently received broad interpretation. The mental health criteria served to cover up abortions done for convenience and socio-economic factors. A common attitude prevailed among therapeutic abortion committees that a woman's wish for an abortion was sufficient to win approval on psycho-social indications. Almost all induced abortions are done for elective, non-medical reasons. Abortion advocates then as now have always spoken of abortion as a "right to choose".
There was no need to change the law in 1969. Rarely, some medical treatments undertaken to save the life of the mother may result in the death of the child in the womb but these interventions are not considered an abortion.
Recorded in the Hansard dated April 28, 1969, during the debate in the House of Commons, Justice Minister John Turner in response to the question of whether abortions would be paid out of Medicare said "Oh no".  Abortions have in fact been paid from public funds from the beginning.
On May 14, 1969, the final vote in the House caused the Bill to pass with a margin of 107 to 36 with 121 members absent or not voting.  The number of abortions since 1969 now stands at almost 4 million.
Note: "The majority of the Court did not rule that women had an unconditional right to abortion under the Charter. On the contrary, it merely concluded that the existing provisions on abortions were such as to impair irretrievably a pregnant woman's section 7 rights. All five Justices comprising the majority acknowledged that the interests of the fetus were deserving of constitutional recognition under section 1."
80-9E Abortion: Legal Aspects 18th March 1980, Revised 18th September 1989 Parliamentary Library of Canada research Branch Monique Hebert, Mollie Duusmuir Law and Government Division.